Saturday, October 28th, 2017
Time: 9pm – 4am
Entry: $25
at
Sac Buddies
4909 Franklin Blvd, Sacramento, CA 95820
About: Sac Buddies is the only HOTTEST & NEWEST 18+ men's club in Sacramento and will now be hosting CumUnion Parties on the last Saturday of each month from 9:00pm – 4:00am. (Extended hours for CumUnion).  The First CumUnion Party at Sac Buddies will be on Saturday, October 28th and it will be Sac Buddies Sleezy Halloween Party featuring CUMUNION.
Sac Buddies offers FREE In & Out Privileges till Closing, Lockers, Rooms, Showers, Restrooms, Towels, Vending Machine, Water Drinking Fountain, Cock Washing Station, Outdoor Backyard Patio & Smoking Area, Indoor TV Social Lounge, Drive-In Porn Theater, Rest Stop, Cat Walk Maze, Multiple Play Areas, Sling, Over 50+ Glory Holes, Porn Televisions, LED Lights, Music, Parking, Security, Bag Check, Condoms & Lube, Jacuzzi/Hot Tub, Over 3,500 sq ft space, and much more.
*Expansion & Upgrades & More Features are coming soon in the near future.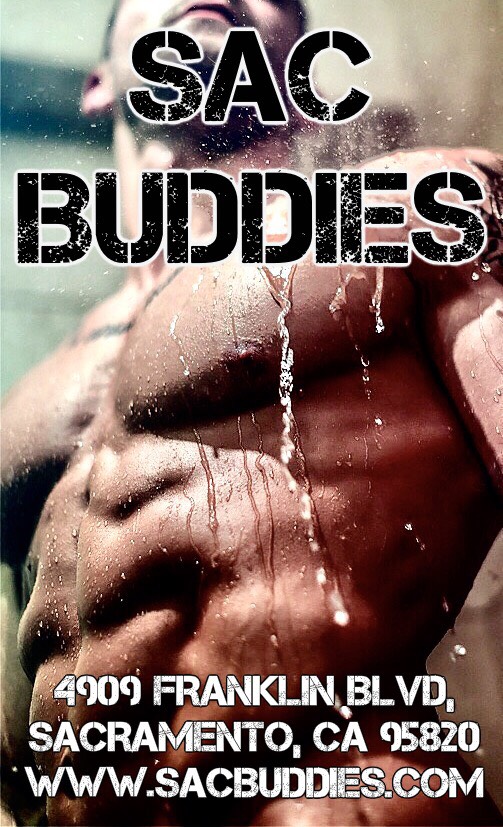 Cash, Credit Card, Debit Card Accepted. Must be 18+ & Over to enter Sac Buddies with Valid form of ID. Valid form of ID Accepted includes Drivers License, Identification Card, Passport. NO DRUGS, PNP, ALCOHOL, WEAPONS ALLOWED (Poppers are acceptable at Sac Buddies)
Sac Buddies Hours:
Monday – Thursday: 11:00am – 12:00am or Later
Friday – Saturday: 11:00am –  2:00am or Later
Sunday: 4:00pm  – 12:00am or Later
Sac Buddies
4909 Franklin Blvd, Sacramento, CA, 95820
www.SacBuddies.info
(916) 616-8496 (call or text)
Sac Buddies on Facebook
Sac Buddies on Yelp
Future Parties: 4th Saturday of every month
*********************************************
Sacramento HIV/STD Testing Services Info:
CARES Community Health Clinic Link: http://www.carescommunityhealth.org/
The Sacramento LGBT Community Center Link: http://saccenter.org/
Golden Rules Services Link: http://www.goldenruleservicesacramento.org/
Capital City AIDS Fund Nonprofit Organization Link: http://www.capcityaidsfund.org/
Sacramento LGBT Community Info: