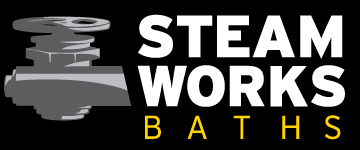 Monday, November 13th, 2017
Time: 8pm – 12mid
Entry: Starts at $16 for a locker
(Steamworks membership not included)

at
Steamworks Baths
3246 N Halsted St, Chicago, IL 60657
Phone: (773) 929-6080 | Website: www.steamworksbaths.com
About: Cum-splattered CumUnion fans pack Steamworks Baths on the 2nd Monday of every month for the biggest, hottest, men's sex party in Chicago. STEAMWORKS Chicago is a private men's gym, sauna, bathhouse for men 18 years and older…you know, men lookin' for other men! Everyone is invited to cum and get off with a hot mix of fun and friendly MEN of all races/types, age 18 and over. Steamworks offers private lockers, private rooms, private booth play areas, suck ramps, a public sling, fuck benches, glory hole booths, a gym, showers, spa facilities, FREE condoms, and much more. If you are getting a room, ask for one on the 3rd floor, that's where CumUnion members are taking over.
Future Parties: 2nd Monday of every month.
| | | | |
| --- | --- | --- | --- |
| -Sept. 11th | -Oct. 9th | -Nov. 13th | -Dec. 11th |
| -Jan. 8th | -Feb. 13th | -Mar. 12th | -Apr. 9th |
---

Friday, November 17th, 2017
Time: 10pm – 4am
Entry: Starts at $22 for a locker
(Steamworks membership not included)

at
Steamworks Baths
3246 N Halsted St, Chicago, IL 60657
Future "Rough Trade" Parties: 3rd Friday of EVERY month.
| | | | |
| --- | --- | --- | --- |
| -Sept. 15th | -Oct. 20th | -Nov. 17th | -Dec. 15th |
| -Jan. 19th | -Feb. 16th | -Mar. 16th | -Apr. 20th |
---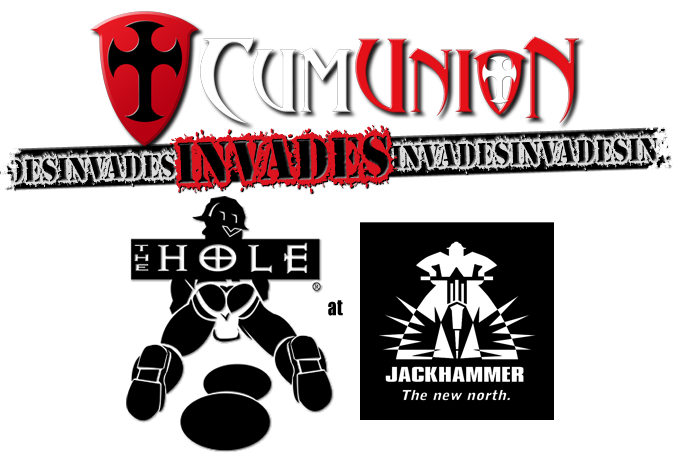 "CumUnion Invades The Hole at Jackhammer"
The notorious fetish bar welcomes piggy guys for a bar night.
Tuesday, November 21st, 2017
Time: 7pm-11pm
(Doors close at 9pm)
Entry: $15
at
The Hole at Jackhammer
6406 N Clark St., Chicago, IL 60626
Phone: (773) 743-5772
"Where Men work hard at playing hard!"
Bar opens to the general public at 11pm. Fetish Dress Encouraged. Free Clothes Check.
Future Parties: 3rd Tuesday of every month.

| | | | |
| --- | --- | --- | --- |
| -Sept. 19th | -Oct. 17th | -Nov. 21st | -Dec. 19th |
| -Jan. 16th | -Feb. 20th | -Mar. 20th | -Apr. 17th |