Locations
COVID-19 SAFETY UPDATE:
Before visiting your local venue please take a moment to familiarize yourself with their COVID-19 safety protocol. CumUnion guests are expected to follow the health and safety guidelines set forth by the venue.
Due to the highly contagious Omicron variant some venues now require guests to show Proof of Vaccination with a booster shot to enter.  Some venues that have been open have decided to temporarily close down for a few weeks to help curb the spread.
---
CUSTOMER SURVEY #6:
Please take a moment to complete our COVID Customer Survey #6. Click the link: https://forms.gle/ygARL4EtrotQ7kYn6
CumUnion is an International Sex Party for Men.
We host monthly play parties in more than 50 locations around the world.
---
*Click on a city in the map below for event details and future party dates.*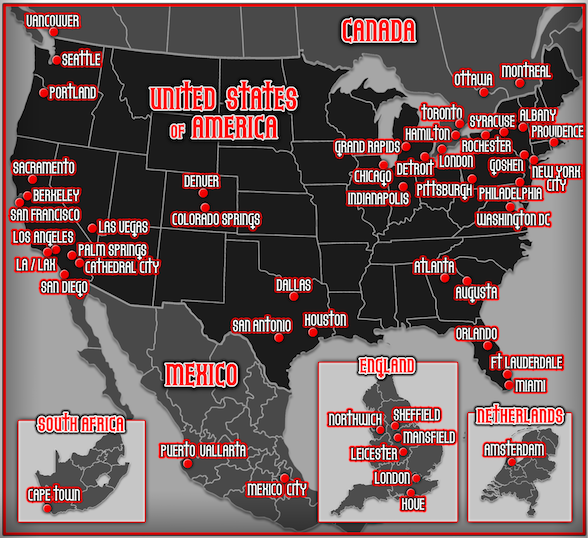 ---
NOW OPEN w/ CUMUNION
These venues have reopened and are back to hosting CumUnion.  Click on a city for dates and details.
---
NOW OPEN
These venues have reopened but have not started hosting CumUnion parties yet. Click on a city for reopening details.
---
CLOSED DUE TO OMICRON
These venues have temporarily closed due to the highly contagious COVID-19 Omicron Variant.
Click a city for more info.
---
TEMPORARILY CLOSED
These venues have been closed since the beginning of the pandemic and have not yet reopened.
Click a city for more info.

---
PERMANENTLY CLOSED

Venue has permanently closed and will not reopen after the COVID-19 outbreak ends.