CumUnion NYC is presented by MilkChocolateNYC.com.

New York's host of hot, interracial gay men's sex parties serving
dark chocolate, tasty caramel and creamy white flavas of HOT MILK!
---
NYC CumUnion "NAKED" Party
Thursday, July 19th, 2018
Time: 8:00pm – 1:00am
Entry: $22 b4 11pm for NAKED MEN
Entry: $25 for guys in underwear
at
Paddles
250 W 26th St, Manhattan, NY 10001
(between 7th & 8th Ave)
Cum in and get bare ass naked to get the Summer Pass Discount. Wear sexy jockstraps or undies for $25 all night. 
---
NYC CumUnion Party
Friday, July 27th, 2018
Time: 9:00pm – 3:00am
Entry: $22 b4 11pm; $25 after
at
Paddles
250 W 26th St, Manhattan, NY 10001
(between 7th & 8th Ave)
Every 4th Friday – get off with 100+ men of all races when we host NYC's hottest hardcore interracial event. 
---
Website: CLICK HERE
About NYC CumUnion:
Friendly adult Gay men of all races and types, ages 18 and over, invited.  The New York edition of this hot international party attracts a hot mix of mature men/twinks, jocks/average joe's, cubs/bears, blue collar types/leather men, dads/lads.  Men on our Private Men's Membership List have priority admission.  Both men into hardcore play and guys into safer piggy action welcome!  Everyone's party limits respected.  Dimly lit BACKROOM open all night for hardcore play and 2nd level Oral Fetish/Safe Play Zone reserved for men into safer piggy play the first two hours of each party.  Tons of condoms within reach @ every party!  Please read the NYC party rules at the bottom of this page to make sure everyone has a fun, drama-free time at the party! Men admitted at each event agree to abide by all party rules. NO DRUGS/SMOKING/RUDE BEHAVIOR/CELL PHONES PERMITTED!
Private Party List:
Email "CUMNYC" to [email protected] to be added to our promoter's private party list and receive invites to future events. Include your name to reserve/pick-up a FREE CumUnion Membership Card at an upcoming party.  CumUnion Cardholders enjoy discounted entry during the opening hours of each party.
---
NYCU Venues:
Paddles
250 W 26th St, Manhattan, NY 10001

DIRECTIONS: Paddles is located in the Chelsea area of Manhattan, near the corner of W 26th Street, between 7th & 8th Ave. Enter from outside through the door on the right marked "Club 250" below the blue 'West Chelsea Veterinary' sign. Once inside, walk down the hall, take the stairs down one level and you will see our door guy.  By subway, take E or A train to 23rd St, use 25th St exit and then walk 1 block to West 26th.
—————————————————————————————————————–
RAINBOW LOFT
35-12 Northern Blvd, Long Island City, Queens, NY 11101
DIRECTIONS: Rainbow Loft is located in Astoria, Queens just outside of Manhattan. You can take the R/M train and get off at 36th St or the E/F line when they run local, which will put you immediately by the door on the same side of the street. Or take the N/Q train to 39th St and just walk up Northern Blvd towards 35th St. The venue is located on the 2nd floor above the Home Tile Center. Look for the glass door entrance to the left of the red neon "Truck Signs"; take the stairs up one level and follow signs to Rainbow Playground, which will be on your right.
---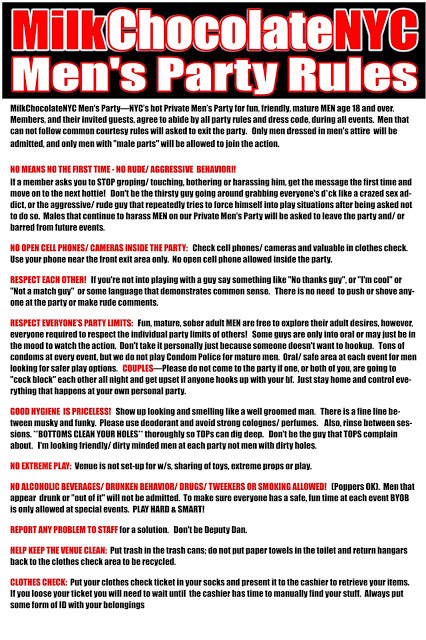 ************************************************
Local STD Testing Info:
NYC Department of Health
www.nyc.gov
STD Center NY
www.stdcenterny.com