IMPORTANT ANNOUNCEMENT
Sauna G.I. Joe is now open!
For more info including current hours of operation and COVID safety protocols visit saunagijoe.com.

Sauna G.I. Joe
1166 rue St-Catherine est, Montréal, QC. H2L 2G7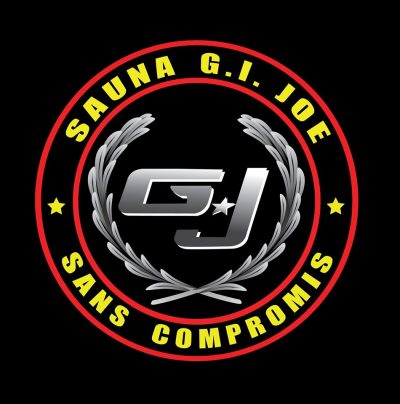 Phone: (514) 528-3326    |    Website: www.saunagijoe.com
About Sauna G.I. Joe:
Venez voir pourquoi les hommes de Montréal notre fête mensuelle CumUnion à Sauna G.I. Joe. Rejoignez-nous le troisième jeudi de chaque mois. Sauna G.I. Joe offre des casiers, des chambres privées (Single Double, Sling Rooms et Donjon), des aires de jeux publiques sur chacun des quatre étages, 3 élingues publiques, des bancs de baise, de nouvelles cabines de trous de gloire, des douches, un sauna sec, un hammam, un toit-terrasse , De la bonne musique, des préservatifs gratuits et bien plus encore. Sauna G.I. JOE reste, entre autres choses, le meilleur endroit pour rencontrer les plus chaudes amateurs de fétiche à Montréal. Les hommes viennent ici pour trouver d'autres pour vivre leurs fantasmes les plus chauds. 
Come see why Montreal men love our monthly CumUnion party at Sauna G.I. Joe.  Join us on the third Thursday of every month. Sauna G.I. Joe offers lockers, private rooms (Single Double, Sling Rooms and Donjon), public play areas on each of the four floors, 3 public slings, fuck benches, new glory hole booths, showers, a dry sauna, steam room, a rooftop terrace, great music, FREE condoms, and much more. Sauna G.I. JOE remains, among other things, the best place to meet the hottest fetish enthusiasts in Montréal. Men come here to find others to live out their hottest fantasies.
Future Parties:
*CumUnion Parties on Hold until further notice.*
****************************************
Local Health Resources:
-Rezo: www.rezosante.org