IMPORTANT ANNOUNCEMENT:
In an effort to slow the spread of COVID-19, Steamworks Vancouver has temporarily closed.  Check back for a re-opening date which has yet to be determined. CumUnion parties on hold until Steamworks re-opens.
Vancouver CumUnion Parties
Date: TBA
Time: 8:00pm – Late
Entry: $21 (includes locker)
at
Steamworks Vancouver
123 W. Pender St, Vancouver, BC V6B 1S4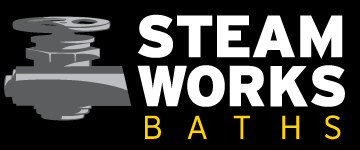 About Steamworks:
STEAMWORKS is a private men's gym, sauna, bathhouse for men 18 years and older… you know, men looking for other men!
Club Features include lock boxes at check-in, private lockers, a mouthwash station, private douche stations, public play areas including a maze of glory holes, slurp ramps, a bondage chair, a fuck bench and their infamous Sexagon 6-sided glory hole booths, a full gym with state-of-the-art equipment, wet area with multi-man whirlpool, showers, red cedar dry sauna and eucalyptus steam room, 19 digital channels of the latest porn, a food and vending area, TV lounge, free Internet kiosk, free Wi-Fi, free wet or dry condoms, and more. Plus, enjoy great music as a live DJ spin Steamworks' signature mix of sexy masculine grooves to get you in the mood.  Private rooms may be available for an additional charge.
**CUMUNION MEMBERS**
Request a room near the dark area on the 2nd floor to be near other guys there for the party.
Steamworks Hours:
Always open – 24 hours a day, 7 days a week.
Steamworks Baths
123 W. Pender St, Vancouver, BC, V6B 1S4
www.SteamworksBaths.com/Vancouver
Phone: (604) 974-0602
Steamworks Vancouver on Facebook
@SteamworksVAN on Twitter
Future Parties: 1st & 3rd Friday of each month.
**CumUnion temporarily on hold until further notice.
---

Local Health Resources:
British Columbia Centre for Disease Control
655 West 12th Ave, Vancouver, BC V5Z 4R4
BCCDC Clinic Hours:
Monday from 8:30am – 7:30pm
Tues & Wed from 8:30am – 4:00pm
Thursday from 9:30am – 4:00pm
Friday from 8:30am – 7:30pm
Saturday from 9:30am – 1:00pm
(Appointments are recommended. Call 604-707-5600.)

Bute Street Clinic
1170 Bute St, Vancouver, BC V6E 1Z6 (upstairs in Qmunity)
Testing Hours:
Monday through Friday from 11:00am – 6:30pm
(Drop in ONlY! No appointment necessary.)