IMPORTANT ANNOUNCEMENT
Parliament Resort is now open!
Effective August 16th: Guests will now be required to show Proof of Vaccination to enter Parliament Resort.
Guests are also asked to observe "social distancing" guidelines and to stay home if feeling unwell.
For more details about what rules/restrictions and safety enhancements are in place please visit metropoliscomplex.com.
COVID-19 DISCLAIMER
COVID-19 is an extremely contagious disease that can lead to severe illness and death.  According to the CDC (Centers for Disease Control and Prevention), guests with underlying medical conditions, compromised immune systems, and senior citizens are especially vulnerable.  There is an inherent risk of exposure to COVID-19 in any public place where people gather.  By visiting Parliament Resort and the entire Metropolis Complex, guests voluntarily assume all risks related to exposure to COVID-19.
Augusta CumUnion Party
Saturday, September 18th, 2021
Time: 11:00pm – Late
Entry: $20
(Included w/ Day Pass or Room Rental)
at
Parliament Resort's PIG PEN
1250 Gordon Highway, Augusta, GA, 30901

Just a short ways from Atlanta, the guys at Parliament Resort in Augusta, GA are having record numbers of hot guys for their monthly CumUnion Party! Guys 21 years of age and over are welcome to join in on the fun.
The CumUnion party takes place in the PIG PEN, a well-equipped novice dungeon located near the back of the venue. See location on Property Map below or ask the front desk clerk if you need help finding the PIG PEN. Your $20 entry (included w/ Day Pass or Room Rental) includes a private locker and gives you access to glory hole booths, a sling area, tons of kinky play equipment, and more.
Parliament Resort also offers newly renovated guest rooms as well as two additional play areas that are open 24/7: the tower, which consists of two private sling rooms, and the maze, a dimly lit play area with glory holes booths and a porn theater, as well as a steam room, hot tub, pool (open spring through fall), the Poolside Cafe, a leather shop, RV Park, and more. The Parliament Resort is the World's Largest ALL-MALE Gay Resort and is located at the heart of the Metropolis Entertainment Complex which includes Executive Inn & Suites, EDGE Nightclub and Capri Lounge. Book a room and stay all weekend! For room reservations call (706) 722-1155.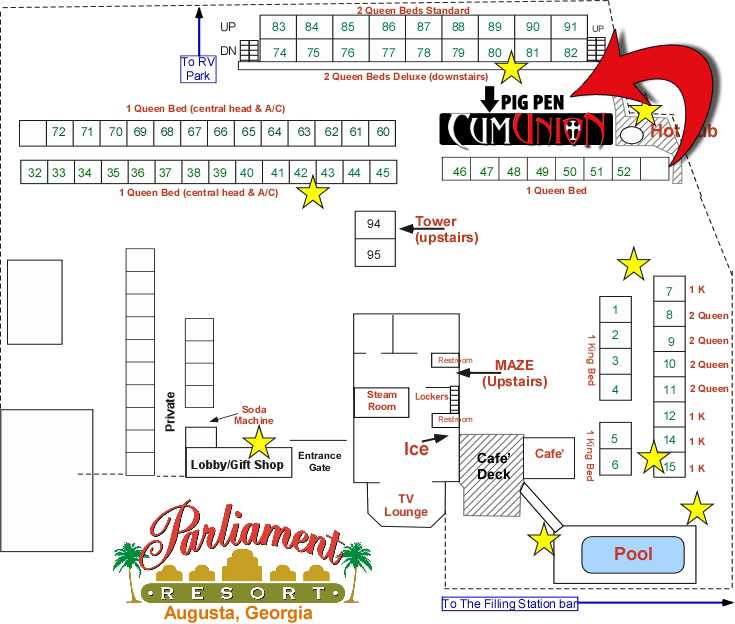 The red arrow on the property map shows the location of the Pig Pen. Directly across from Rooms 79, 80, 81 and 82, and next to the Hot Tub.

1250 Gordon Highway, Augusta, GA 30901
| | | | |
| --- | --- | --- | --- |
| May 8th | Jun. 5th | Jul. 31st | Aug. 28th |
| Sep. 18th | Oct. 23rd | Nov. 6th | Dec. 4th |
---
CSRA Safety Net
CLICK HERE to view CSRA's Testing Calendar