IMPORTANT ANNOUNCEMENT
Sac Buddies is now open!
For more details including their current hours of operation and COVID-19 rules and restrictions visit sacbuddies.com.
COVID-19 DISCLAIMER
COVID-19 is an extremely contagious disease that can lead to severe illness and death.  According to the Centers for Disease Control and Prevention, guests with underlying medical conditions, compromised immune systems, and senior citizens are especially vulnerable. There is an inherent risk of exposure to COVID-19 in any public place where people gather. By visiting Sac Buddies, guests voluntarily assume all risks related to exposure to COVID-19.

Sac Buddies
4909 Franklin Blvd, Sacramento, CA, 95820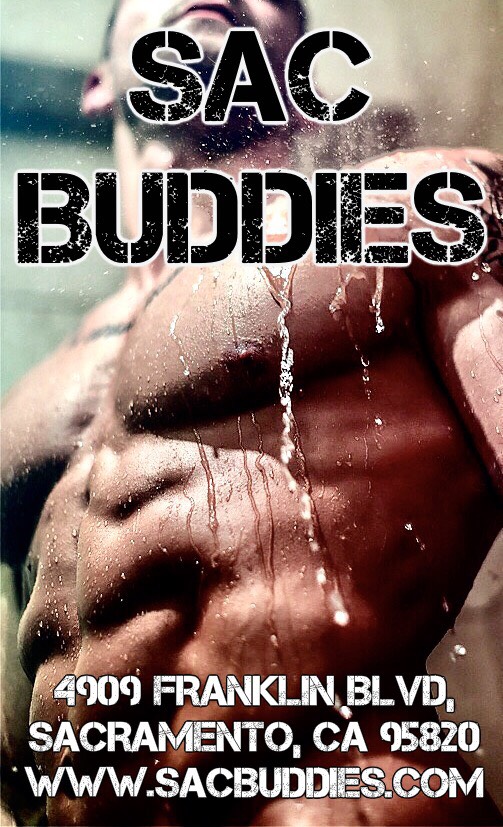 About Sac Buddies:
Sac Buddies is Sacramento's ONLY 18+ men's club and is the host of the Sac CumUnion Party on the second Saturday of every month.
Sac Buddies offers In & Out Privileges till Closing, Lockers, Private Rooms, Showers, Restrooms, Towels, Vending Machines, Cock Washing Station, Outdoor Patio/Smoking Area, TV Lounge, "Drive-In" Porn Theater, Rest Stop, Cat Walk Maze, Multiple Play Areas, Sling, 50+ Glory Holes, Porn TVs, LED Lights, Music, Parking, Security, Bag Check, Condoms & Lube, Jacuzzi/Hot Tub, Over 3,500 sq ft space, and much more.
*More Features, Expansions & Upgrades coming soon.
Cash, Credit/Debit Card Accepted. Must be 18 or over to enter with valid form of ID showing age. (Drivers License, ID Card, Passport, etc.) NO DRUGS, PNP, ALCOHOL OR WEAPONS ALLOWED. (Poppers are acceptable)
Sac Buddies
4909 Franklin Blvd, Sacramento, CA, 95820
www.SacBuddies.info
Phone: (916) 330-1185
Sac Buddies on Facebook
Sac Buddies on Yelp
Future Parties: 2nd Saturday of each month.
**CumUnion temporarily on hold until further notice.
---
HIV/STD Testing Services Info:
CARES Community Health Clinic Link: http://www.carescommunityhealth.org/
The Sacramento LGBT Community Center Link: http://saccenter.org/
Golden Rules Services Link: http://www.goldenruleservicesacramento.org/
Capital City AIDS Fund Nonprofit Organization Link: http://www.capcityaidsfund.org/
LGBT Community Info: