COVID-19 DISCLOSURE
COVID-19 is an extremely contagious disease that can lead to severe illness and death.  According to the Centers for Disease Control and Prevention, guests with underlying medical conditions, compromised immune systems, and senior citizens are especially vulnerable. There is an inherent risk of exposure to COVID-19 in any public place where people gather. By visiting Steamworks Seattle, guests voluntarily assume all risks related to exposure to COVID-19.

Steamworks Seattle
1520 Summit Ave, Seattle, WA, 98122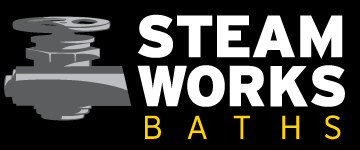 About:
STEAMWORKS is a private men's gym, sauna, bathhouse for men 18 years and older… you know, men looking for other men!
Club Features include lock boxes at check-in, lockers, private douche stations, public play areas including a labyrinth of glory holes & slurp ramps, a public sling, bunk beds and video lounges, a wet area featuring gym-style showers, 19 digital channels of the latest porn, great music and live DJ's spin Steamworks' signature mix of sexy masculine grooves to get you in the mood, food and vending area, TV lounge, free Internet kiosk, free Wi-Fi, free lubed or dry condoms, and more. Private rooms may be available for an additional charge.

A Steamworks membership is required for entry. A valid Photo ID or Driver's License is required for memberships. Membership rates are $6 for 30 days or $20 for 6 months.
Anonymous HIV testing available from 10pm – 2am courtesy of Gay City.

Steamworks Baths
1520 Summit Ave, Seattle, WA, 98122
www.SteamworksBaths.com
Phone: (206) 388-4818
Steamworks Seattle on Facebook
@SteamworksSEA on Twitter
Photos:
Location:

Future Parties:
*CumUnion Parties are temporarily on hold until further notice.*
---

Local Health Resources & Testing Info:
Gay City Health Project
517 E. Pike, Seattle, WA, 98122
Monday – Friday | 3:00pm – 8:00pm
Saturdays | 12:30pm – 5:00pm
Gay City at Out of the Closet (Walk-ins Only)
1016 E. Pike, Seattle, WA, 98122
Monday – Saturday | 11am – 7pm
Thursday | 3pm – 7pm
To schedule an appointment, call (206) 860-6969,
or schedule an appointment online here.